To learn how to promote your online business and be a better freelancer, stay with us. In this article we will teach you step by step what you need to do to accomplish your goal.
Nowadays, the usage of Social Media is extremely important, not only to users looking to connect with family and friends. But also to small entrepreneurs who seek to grow in the world of business.
Today, we will talk about freelancing and the perks that Instagram can provide as a tool to attract more clients.
As a Freelancer, you depend on online platforms that connect you with possible customers interested in your services. But such large networks put Freelancers in a situation where you constantly compete to get a job. In some cases, clients might never even contact you.
Consequently, there will be months when you will have work, as there will be months where you won't.
We understand the situation, and that's why we want to help you by giving you the information on How to use Instagram to improve your freelance business and attract more clients.
Why should you use Instagram if you are a Freelancer?
As an artist, it is important that the world knows your work, having a portfolio might be helpful but if you don't put it out there, it is possible that no one ever finds you.
Instagram is a social network focused on visual content. Its users use it to look for inspiration not only in one but in several niches. Regardless of whether you specialize as a photographer, animator, illustrator or any other branch. There will always be someone who will come across your profile and find inspiration in your content.
Using Instagram to show your work, will help you build your personal brand. And the main content will be your work.
Steps to improve your freelance business on Instagram
You already know why you should use Instagram if you are a Freelancer. Let's see which steps you should follow to be more visible on the platform.
Custom your Profile
Your profile is the equivalent to your presentation letter, the first thing possible clients will see when they visit you on Social Media, is your profile, so it is important that you learn how to impress your audience by showing the aspects that describe your work as a freelancer.
1. Profile photo: Choose a photo that represents you or your business. You can use your logo or a photo that shows something characteristic of you.
2- Business name: Try using a name that will let people remember you easily, using a complex name will result in visitors forgetting what your profile is about, the name you decide to use will later be seen as the name of your personal brand.
3- Body: You can use the body to write a short bio about you and what you do as a professional, describing your abilities is a good idea, however, you can also add a personal touch by adding emojis and mentioning something that you like to do. You don't necessarily have to sell yourself as a serious person, that can make you see as someone boring, showing your followers and possible clients a more human side of you by mentioning one of your hobbies along with your abilities will help your image. E.G- Video Editor/Graphic Designer/ Dog Lover
4- Links: Instagram allows you to put links in your profile, so take advantage of that and use a link to redirect your followers to a website where you host your portfolio or some recent project that you have done.
Be constant with your Content
The content you post on Instagram is very important, as a freelancer, you need to have a portfolio that will show your possible clients your work.
Imagine that you are a graphic designer. You have worked with a few big companies that requested the creation of banners, t.shirt mockups, and some illustrations. All your graphics work can be posted on Instagram as proof of your experience. However, you should consider start creating new content, even if you are not hired by anybody.
With Instagram and with any other social network, the secret is to keep updating your feed. Post new content and your profile will show a bigger variety of things for people to see.
It really is not that difficult, in fact, you don't even have to make all your posts be about your work, you can always post valuable content, share an e-book or simply an image, just keep your audience updated.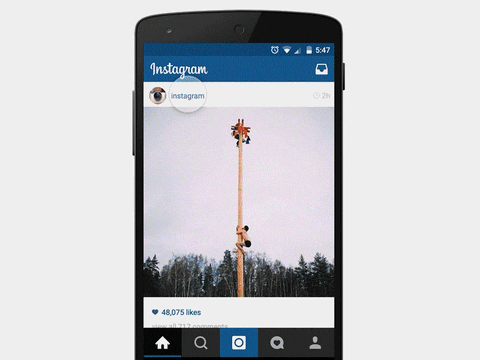 Arm your strategy
We are almost done! Ok, so you already have a nice Instagram profile with updated content and an interesting bio that makes you look friendly and professional, but, how do you make possible clients find you? Well you have to work on an Instagram Strategy
There are literally hundreds, if not thousands of strategies that you can use to promote your Instagram account and make more people know your work.
Here are a couple of ideas:
Follow those who share your passion – As you begin, it will be a bit complicated to gain followers, so spend some time exploring the platform and follow people who share your interests, by doing this, the people you follow will get curious and visit your profile, if they like your content, they will probably follow you back.
Choose the right schedule – Posting on Instagram is an art, you have to know what the best time for you to post your content is, to do this, get to know your followers and their habits, knowing your followers will help you have a better understanding on when to post your content and make sure that those who follow you, will see it.